Here's our selection of video game soundtracks released in July 2021.
This is a non-exhaustive list without any classification hierarchy. We invite you to discover new soundtracks that will brighten up your day! 🙂
This month we're bringing out the flip-flops, the beach umbrellas, but also the sound systems, earbuds and headphones, because we're off again for a new monthly recap of video game soundtracks! ⛱️🌞
---
Death's Door, A Dismal Atmosphere, but Always Epic
Composer: David Fenn
Genre: Orchestral
To start off our recap, we're beginning with the independent game, Death's Door, developed by Acid Nerve and published by Devolver Digital Games. Here the player embodies a crow whose job title is: soul reaper. A trivial job for such a bird, it even clocks in every day as if it's working in a factory. But its daily life will be turned upside down by a mysterious thief who will steal the soul it was supposed to collect. We won't reveal more about the story, so let's go to the soundtrack.
The artist who composed the tracks for this game is David Fenn. This Briton is also known for having produced the soundtrack of Moonlighter (action role-playing game with some rogue-lite elements). What is certain is that it's complicated to give a genre to his compositions that mix several instruments ranging from the flute to the electric guitar, including backing vocals.
All we can say is that we can really feel the adventure within his music. David Fenn has also managed to add in, at times, a dismal atmosphere, but always epic that goes well with the main character and the game's environment.
Our favorite is the title "Demonic Forest Spirit" for its bewitching qualities and beautiful melody.
Links to listen/buy the soundtrack:
---
Streets of Rage 4: Mr. X Nightmare, Funky Rhythms, Acid Bass and Dubstep Sounds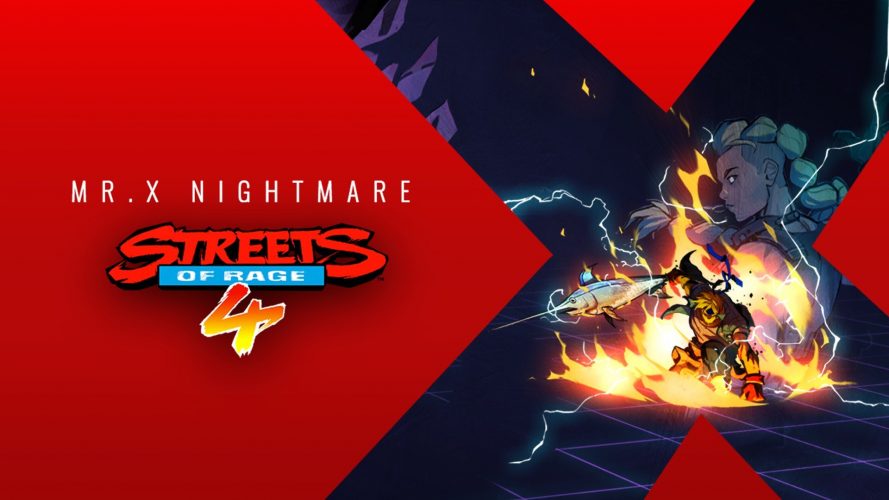 Composer: Tee Lops
Genre: Electro/Dubstep/Acid
ALERT BANGER !
Streets of Rage, or Bare Knuckle in Japan, is a series of beat them all type action video games. Opus 1, 2 and 3 were developed by Sega AM7 at the time and published by SEGA. The first game came out in 1991 so it's starting to come back around. But we're interested in the most recent sequel, Streets of Rage 4. For this sequel, the developers are Dotemu, Lizardcube and Guard Crush Games. As for the publisher, it's still SEGA, but this time we also have Dotemu.
The Streets of Rage saga is marked by big names in the video game composer world such as Yūzō Koshiro (Streets of Rage 1, 2 et 3), Yoko Shimomura (Final Fantasy XV, Kingdom Hearts, Xenoblade Chronicle, Heroes of Mana, Streets of Rage 4), Olivier Derivière (Streets of Rage 4, A Plague Tale: Innocence), Motohiro Kawashima (Streets of Rage 1 & 2), Keiji Yamagishi (Ninja Gaiden, Streets of Rage 4), Harumi Fujita (Streets of Rage 4) , H-Pi (Trackmania, Styx, Werewolf: The Apocalypse, Streets of Rage 4)
However, here we are dealing with the artist, Tee Lopes. In reality, we won't be talking about the Streets of Rage 4 game directly, but rather a DLC released on July 16, 2021: Streets of Rage 4: Mr. X Nightmare.
Tee Lopes has nothing to envy about the previous composers who precede him on this franchise. He perfectly understood the universe's sound and he electrifies us with music tinged with funky rhythms, acid bass and dubstep sounds…
The label Ninja Mutant Records even shared a few words from the artist about his work during the creation of this soundtrack:
"I grew up in a small town in Portugal. Not a lot happens there, so as a child, video games were like a magical portal into a world of excitement. […] It's not an exaggeration to say that Yuzo Koshiro's soundtrack is one of the main reasons I ever dreamed of making music for games, and it's still an inspiration to me to this day. I could never imagine that almost three decades later I'd be in a different country, writing music for the 4th installment in the series. It's impossible to describe how meaningful this project is to me as a professional composer, but even more-so to the child that still lives inside me."

Tee Lopes
Okay, we'll have to choose our favorite song, but it's not an easy task! Though we'll pick the title "Hell on Earth" for its really cool acid melody.
To listen/buy the album click here.
---
Chernobylite, Soft and Thrilling Melodies
Composers: Mikołaj Stroiński, Frederic Biraud
Genre : Orchestral
Chernobylite is the latest project from studio Farm 51, best known for Get Even. This time, the story begins in 1986 in Prypiat with the Chernobyl nuclear disaster. You'll play an engineer working at the factory who will experience the incident up close and lose the person dearest to his heart, his girlfriend. 30 years later, you'll return to the scene of the drama to understand what really happened. True horror RPG, mixing exploration in a semi-open world and shooting sessions on imaginary or real(?) irradiated creatures, Chernobylite tries to reproduce the irradiated area as faithfully as possible. The development team even went to the exclusion zone to better recreate the appropriate visuals.
The person behind the game's soundtrack is none other than Mikołaj Stroiński, particularly known for his music on Leagues of Legends, Age of Empire 4 and The Witcher 3: Wild Hunt & Blood and Wine. It can be easily confirmed that the soundtrack is in good hands. His orchestral style is perfectly suited to the scary world of Chernobylite. A tasty mix of soft and thrilling melodies, something to delight our ears.
However, the title we want to present to you is not by Mikołaj Stroiński but by Fréderic Biraud. It's called "Parfum de Jade". This is, quite simply, the main theme of the game.
This soft, melodious journey on the guitar reminds us of the theme song of The Last of Us or even 28 Days Later. This instrument is definitely made for survival epics.
We also wanted to share the music video with you produced by the game team with the famous Russian nursery rhyme "Tili Tili Bom" that can be heard while playing the game. Enjoy!
Unfortunately we can't provide you with official links to listen to the soundtrack. But you know how it goes, if you search a little, you'll easily find the songs.
---
Neo: The World Ends with You, Between Rock, Pop and Hip-Hop
Composer: Takeharu Ishimoto
NEO: The World Ends With You (新 す ば ら し き こ の せ か い, Shin Subarashiki Kono Sekai in Japanese) is the sequel to the game released on DS in 2007: The World Ends With You. This new opus still takes place in the Shibuya district of Tokyo. The game is developed by H.A.N.D. and published by Square Enix.
Like with the first release, it's the Japanese composer, Takeharu Ishimoto taking care of the soundtrack. Oscillating between rock, pop and hip-hop, some tracks are remixes from the first game, to the delight of fans. In addition, new tracks are there to happily be discovered.
We love the track "March On" for those guitar riffs!
To buy the album:
---
Alright, this month we're only bringing you 4 soundtracks instead of 5… but these are 4 AWESOME soundtracks!
CHARUE Yoann, G4F