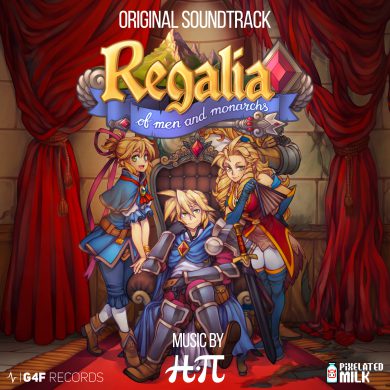 Warning: Invalid argument supplied for foreach() in /home/clients/c049d42eb3918f05827d42d2bf4b0178/web/g4f-records/wp-content/themes/G4F-records/single-soundtrack.php on line 82

Der Originalsoundtrack zu "Regalia: Of Men and Monarchs" besteht aus 14 Tracks und wurde am 18. Mai 2017 veröffentlicht.
Der Soundtrack wurde von Henri-Pierre Pellegrin (H-Pi).
Die Musik wurde inspiriert von den besten Komponisten, die es im Bereich Japan-RPGs je gegeben hat. Entdecken Sie die klassischen Melodien der JRPGs aus den 1990ern wieder. Auf in den Kampf!
Veröffentlichungsdatum: : 20150527
Webseite
Musik komponiert und arrangiert von H-Pi
Instrumentation: H-Pi und Jean Philippe Fournier
Sinfonia Pop Orchestra:
href="http://www.sinfoniapoporchestra.com">www.sinfoniapoporchestra.com
Instrumentation/Notenschreiber: Jean-Philippe FOURNIER
Dirigent: Constantin ROUITS
Künstlerische Leitung: Flore COMMANDEUR
Tontechnik: Serge Babkine
Live aufgenommen in Chatou am 11. Januar 2016.
Trommeln: Aurélien Ouzoulias (außer Track 14)
www.aurelienouzoulias.com
Aufgenommen im Tonstudio "La Tour Fine" in Herblay am 4. Februar 2016.
Tontechnik: Vincent Thermidor
Elektro-Bass, Gitarre, zusätzliche Synthesizer: H-Pi
www.hpisound.com
Abmischung: H-Pi und Fabien Girard
Mastering: Fabien Girard
Regalia: Of Men and Monarchs is a Japanese RPG developed by Pixelated Milk. A JRPG from the heart of Europe. Tactical combat with a rich story and focus on character development. Coming soon on PC, PS4 and PS Vita.
This is a Kickstarter project that was a smash hit in the summer of 2015.
Website: Regalia