While you're waiting for the release of Styx: Shards of Darkness, you can enjoy listening to the OST of Styx: Master of Shadows on YouTube.
All the music was recorded by the Sinfonia Pop Orchestra. The haunting strings blend beautifully with the dark fantasy atmosphere, and the 25 tracks convey all the tension and danger in Styx.
Produced by Cyanide Studio (Of Orcs and Men, Game of Thrones), this spin-off from the Of Orcs And Men universe focuses on infiltration, but RPG fans won't be disappointed either. You play Styx, a cunning 200-year-old goblin in search of his origins. Fight your way through the Elves and Humans, but make sure you're not spotted!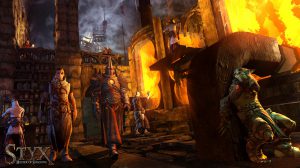 The soundtrack to Shards of Darkness will be distributed on Bandcamp, YouTube and all the streaming platforms on March 14th, the game release date. The two OSTs were written by H-Pi (Henri-Pierre Pellegrin), one of our composers at G4F Talents. Watch this space for an interview with this video games music maestro!