Here's our selection of video game soundtracks released in January 2022.
This is a non-exhaustive list without any classification hierarchy. We invite you to discover new soundtracks that will brighten up your day! 🙂
To start the year off right, what better than a flood of video game music? The releases are less well known this month, but we still find some sure bets and fun surprises.
Uncharted: Legacy of Thieves Collection, A Cinematic Musical Atmosphere
Composers: Greg Edmonson, Henry Jackman
The Uncharted: Legacy of Thieves collection including the 4th episode, A Thief's End, as well as the stand-alone, The Lost Legacy, is available starting January 28th. We are therefore not facing new adventures with Nathan Drake but rather remasterings of the PS4 games. Naughty Dog is still in top form and the music hasn't changed. Of course we find Henry Jackman at the soundtrack's helm. But we'll also take advantage of this release to discuss the music of the entire franchise, from the first 3 episodes whose soundtracks were composed by Greg Edmonson, to the last episodes of this collection.
Uncharted's music has left its mark thanks to its main theme song, Nate's Theme, which we find under this name in the first 3 releases, then under the name "A Thief's End" with new instrumentation by Henry Jackman, even if the leitmotif is obviously always recognizable.
Whether it's Greg Edmonson's compositions or those of Henry Jackman, Uncharted offers a completely cinematic and purely orchestral musical atmosphere. Where in the first episodes, brass and percussion took a prominent place, as in "Sir Francis Drake" (Uncharted 1) and "Cat and Mouse" (Uncharted 2), the last adventures put more emphasis on the strings, as in "Hidden in Plain Sight" (Uncharted 4).
Uncharted immerses us in a way that is so rare, its universe is so captivating. This is definitely thanks to its production, but also because the series' soundtrack perfectly accompanies the action as well as Nathan Drake's emotions. As one of the scenes of Uncharted 4 reminds us after so many episodes, we have had many adventures with its heroes, but we're still surprised by how much we appreciate its soundscapes, even today!
To listen to the album:
The entire franchise's soundtracks are available on Spotify and most music streaming platforms (Deezer, Apple…).
---
Supraland Six Inches Under, Good Vibes, Frenzied Piano and German Lyrics
Composers: Con Fetti Pesto, David Münnich, Alexx Grimm
It was supposed to be a DLC of Supraland the original, but Supraland Six Inches Under is instead considered the version 1.5. We can therefore say that it is halfway between the DLC and the sequel. Some elements of the previous release are found in the gameplay but the developers at Supra Games UG have evolved certain concepts.
In terms of music, almost all the tracks are original compositions unlike the first release where licensed tracks were used. They're not all available online but we still found the song credits, and honestly we couldn't not share them with you.
Con Fetti Pesto, David Münnich and Alexx Grimm delight us with their enthusiasm and feel good vibes. Good vibes, frenzied piano and German lyrics = a winning combo that puts a smile on your face! 😀 If you liked Warum Warum from the first Supraland, then you will love what these artists have composed for the sequel.
To listen to music from Supraland Six Inches Under:
---
Windjammers 2, A Torrent of Constant Energy
Composers: Gamadelic, Harumi Fujita, Sylvain Hellio
Windjammers 2 is finally out! Fans have been waiting for several years, and the new episode developed and published by Dotemu, has finally been released to the world, and so has its music. Information about the soundtrack is hard to come by unfortunately, but in the credits we see: Harumi Fujita, the Japanese group Gamadelic (already at work on the first Windjammers) as well as Sylvain Hellio (also founder of the production studio Bande de Sons).
The troupe has developed a soundtrack in the purest retro and rock/electro style, specific to the license. Electric guitars and synths come together in a torrent of constant energy. Even if there isn't (yet?) an official soundtrack album, it breaks down in-game in a fairly classic way, similar to the first game, with a main theme song revisited for the occasion, a theme song for the credits and the different theme songs for each court. For the lands taken from the first episode, the music has also been reinterpreted, like the mythical short, "Beach", but new lands have also been implemented with their own new theme songs. Among these are some amazing surprises like in the "Junkyard" with a funky well-placed rap.
As mentioned above, the soundtrack is not available on any music streaming platform. We hope to be able to have it soon, but in the meantime, the only thing left to do is to launch the game on your favorite platform to enjoy it (the game is available on PlayStation, Xbox, Nintendo Switch and PC)!
---
Nobody Saves The World, Sometimes Towards Old School, Sometimes Towards Acoustics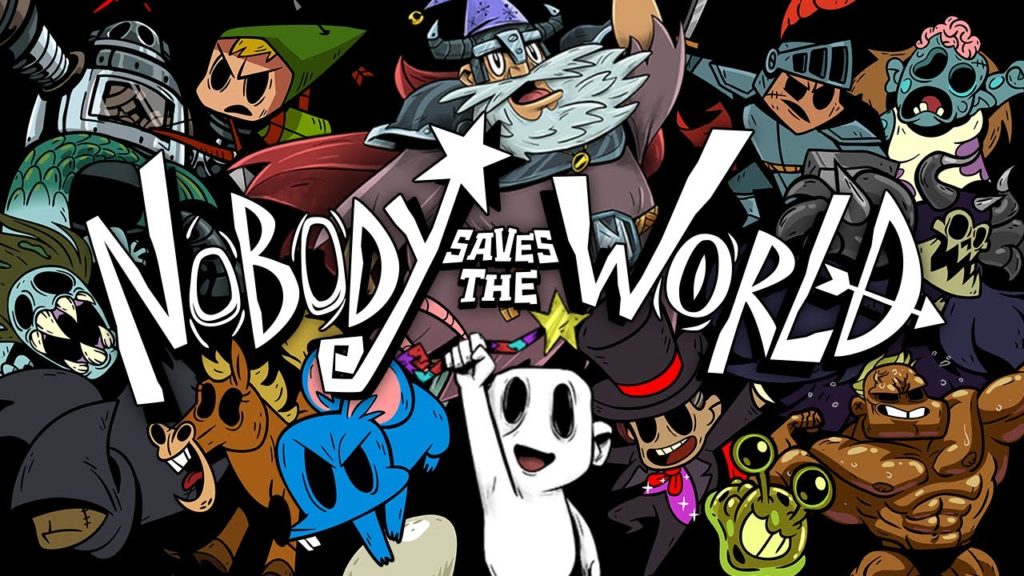 Composer: Jim Guthrie
The world is threatened by Calamity and Nobody is there to save the day. Nobody is the name of the hero you'll play. He doesn't really have a distinguishing trait other than he can transform into just about anything and everything in order to complete the quests you'll engage in. And who's chosen to set this new Drinkbox Studio game to music? None other than Jim Guthrie.
So for those already in the know, Jim Guthrie has already composed the soundtracks of Planet Coaster with JJ Ipsen, Sword & Sworcery and even Bleak Sword and many other projects that we encourage you to discover by checking out his Bandcamp, for example. Alright, we'll still give you the Planet Coaster playlist here because it has the power of putting you in a good mood 🙂
Let's get back to Nobody Saves The World! A mix of sounds leaning sometimes towards old school, sometimes towards acoustic. A symphony pleasing to the ears that we listen to with pure joy.
It's the song, "The Calamity", which particularly charmed us with its rather dark melody and its frenzied rhythm! 😈
All you have left to do is discover the whole album!